Happy Holidays! People are always asking me about quick and simple ideas for cocktail party fare – hors d'oeuvre, appetizers, and small bites alongside soups, sweets and drinks. So, as we celebrate the holiday season this year, I wanted to share a list of recipes that you can whip up for any occasion.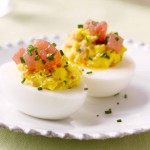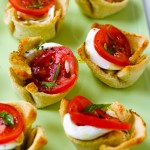 Hors d'oeuvre, Appetizers, and Small Bites
Caprese Tartlets (ideas for different fillings in my cookbook!)
Grilled Cheddar Cheese (cut up into bite-sized pieces)
You can also serve salads and pasta salads on the side – in a big bowl or even in individual cups.
And if you have my cookbook: Anything in the Appetizers & Snacks chapter! 
Soups
Take your favorite soup or gazpacho recipe and serve as shooters in small glasses or cups.
Chilled Carrot and Cauliflower Soup
And if you have my cookbook: Roasted Tomato Winter Gazpacho and Creamy Any Veggie Soup
Sweets & Dessert
A dessert buffet is always a hit! Serve items that can easily be pre-cut or pre-portioned into bite-sized pieces or individual servings, so your guests can taste a little bit of everything.
Rosemary Chocolate Chip Shortbread
And if you have my cookbook: Double Chocolate Pound Cake, Fruit Salad with Lemon-Mint Syrup, Yogurt Cake with Chocolate Chips, and Orange Marmalade and Raspberry Jam Pochette Coockies
Drinks
You can easily do alcoholic or non-alcoholic versions of any of these tasty drinks.