Quick Cinnamon Apple Tarte
1 stick butter, cut into 1-inch cubes, plus extra, melted, for brushing
1 1/2 cups flour
Salt
2 tablespoons sugar, divided
3 tablespoons ice cold water
3 Granny Smith apples
1 tablespoon fresh lemon juice
1 teaspoon ground cinnamon
Vanilla ice cream, for serving
Special Equipment: 9 1/2-inch tarte pan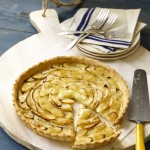 Instructions:
Place the cubed butter in the fridge while you assemble all your ingredients.
Preheat the oven to 350 degrees F.
In a food processor, place the flour, a pinch of salt, and 1 tablespoon sugar. Add the butter and pulse until the mixture looks like wet sand. Add the cold water and pulse again until the dough just begins to come together in a large lump. Pour the dough into the tarte pan and, using your fingers, press the dough into the pan, forming a crust. Refrigerate the crust while you prepare the apples.
Peel the apples, cut into quarters, core, and then slice thinly. Place in a bowl and toss with the lemon juice, the remaining 1 tablespoon sugar, cinnamon, and a pinch of salt.
Remove the crust from the refrigerator and dump the apples onto the crust, spreading them evenly. (Cook's Note: If you have a couple extra minutes, take the time to fan out the apples to really make this tart look like it came from a fancy bakery!) Brush the whole tarte with melted butter and bake until the tarte is golden and the apples have cooked down a fair amount, about 1 hour. Cool for at least 15 minutes before cutting. Serving Suggestion: Top with vanilla ice cream and Warm Cinnamon Caramel Sauce.