Butter, for greasing the pan
1 1/4 cups all-purpose flour, plus more for the pan
3/4 cup sugar
2 eggs
1/3 cup olive oil
1 teaspoon vanilla extract
Juice and zest of 1 orange (about 3 tablespoons juice, 1 tablespoon zest)
1 teaspoon baking powder
1/2 teaspoon baking soda
1/2 teaspoon salt
Confectioners' sugar for dusting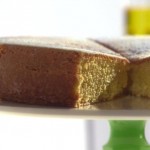 Instructions:
Preheat the oven to 350 degrees F. Grease and flour a 9-inch round cake pan. Mix together the sugar and eggs in a medium bowl with a hand mixer on medium speed until blended and light. Drizzle in the olive oil and vanilla and mix until light and smooth. Add the orange juice and zest and mix well. Sift together the flour, baking powder, baking soda and salt in another medium bowl. Add the flour mixture half at a time to the wet ingredients and mix on low just to incorporate. Pour into the prepared cake pan and bake, 25 to 30 minutes. Let the cake cool 15 minutes, dust with confectioners' sugar and serve.