8 slices white bread
1/4 cup extra-virgin olive oil
3 tablespoons cream cheese, softened
1 teaspoon garlic powder
1 teaspoon dried basil
Kosher salt and freshly ground black pepper
2 Roma tomatoes, thinly sliced
4 ounces fresh mozzarella (approximately 2-inch ball), thinly sliced
Balsamic vinegar, for drizzling, optional
8 fresh basil leaves, chiffonade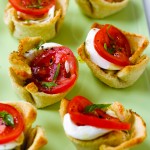 Instructions:
Preheat the oven to 375 degrees F. Remove the crusts from the bread and using a large spoon or rolling pin, gently press the slices of bread down flat until they are thin and almost doughy. Brush both sides of the bread with olive oil. Press the slices in a muffin tin, to form tartlet shells. Set aside. In a small bowl, using a fork to combine, mix together the cream cheese, garlic powder, dried basil, salt, and pepper until smooth and creamy. Drop about a teaspoon of the cream cheese into the bottom of each muffin tin. Bake the tartlets until golden and crusty, 12 to 13 minutes. Meanwhile, liberally salt the tomato slices. Once the tartlet shells are golden, remove them from the oven and transfer to a cooling rack. Place a slice of mozzarella on top of the cream cheese, then layer on a tomato slice or two. Season with salt and freshly ground black pepper, to taste and a drizzle of olive oil and balsamic vinegar, if using. Garnish with basil chiffonade.