1 baguette, thinly sliced
Olive oil, for brushing and drizzling
Kosher salt
Mock Mascarpone Cheese, see separate recipe
Roasted red peppers, peeled and sliced
Fresh basil leaves, chiffonade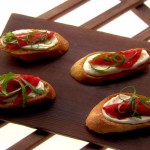 Instructions:
Preheat the oven to 400 degrees F. Brush the bread slices lightly with olive oil and season with salt. Bake in the oven until golden, 3 to 4 minutes per side. Allow to cool. Spread the toasts with Mock Mascarpone Cheese, and top with roasted red pepper slices, basil, olive oil and salt.