1/2 cup ice water
1 slice firm white bread
1 1/4 to 1 1/2 cucumbers, peeled, roughly chopped
1/2 yellow pepper, seeded, roughly chopped
1 scallion, white part only, roughly chopped
1 small clove garlic, roughly chopped
2 tablespoons olive oil
1 tablespoon white wine vinegar
Salt and freshly ground black pepper
1/4 cup plain yogurt, for serving
1 teaspoon chopped fresh basil, for serving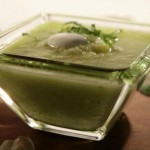 Instructions:
Mix the ice water and bread in a blender. Let stand for 5 minutes. Add the cucumber, yellow pepper, scallion, garlic, oil and vinegar, and blend until chunky. Sprinkle with salt and pepper. Let the gazpacho chill for at least 1 hour. Divide the gazpacho among bowls and drizzle with the yogurt and basil.