Cake:
1/2 cup (1 stick) unsalted butter, softened, plus more for greasing
1/2 cup sugar
2 eggs
1 teaspoon vanilla extract
1 cup all-purpose flour
1 teaspoon baking powder
1/2 teaspoon salt
Juice and zest of 1/2 lemon
Glaze:
3/4 cup confectioners' sugar
Zest and juice of 1/2 lemon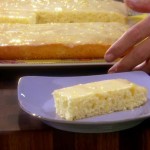 Instructions:
For the cake: Preheat the oven to 350 degrees F. Grease an 8-inch-square pan. Cream the butter and sugar in a medium bowl until light and fluffy, using a hand mixer (about 3 minutes). Add the eggs one at a time while mixing, and then add the vanilla. Sift together the flour, baking powder and salt in a small bowl. Add half the flour to the butter mixture and combine. Add the lemon juice and zest, mix, and add the remaining flour, mixing again to combine. Pour into the prepared pan. Bake until the cake springs back when lightly pressed, about 20 minutes. For the glaze: Combine the confectioner's sugar, lemon zest and lemon juice and mix well. Mix until thoroughly incorporated. Pour over the cake.