1/3 cup sugar
1 tablespoon grated ginger
2 large strips lemon peel
Juice of 2 lemons
Ice, for serving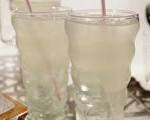 Instructions:
Combine the sugar, ginger and lemon peel in a small saucepot. Pour enough water to cover the mixture, about 1 cup. Bring the mixture to a boil and simmer, about 5 minutes. Remove the saucepot from the heat and let sit at least 15 minutes up to a few hours. Pour the lemon juice in a pitcher. Add 3 cups water and the sugar mixture and mix to combine. Serve the lemonade over ice.