Spicy Raspberry Glaze:
2 tablespoons unsalted butter
1 clove garlic, pressed or minced
1/4 cup raspberry jam
1/4 teaspoon cayenne pepper
1/4 teaspoon white wine vinegar
1/2 teaspoon chile powder
Salt
Turkey Lollipops:
1 egg
2 tablespoons fresh parsley leaves, chopped
1/2 teaspoon salt
1/4 teaspoon dried sage
1/8 teaspoon cayenne pepper
1/2 cup panko breadcrumbs
2 cloves garlic, minced or pressed
1/2 small white onion, finely diced
1 pound ground turkey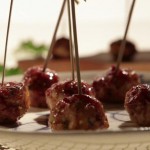 Instructions:
For the spicy raspberry glaze: Combine the butter and garlic over medium heat in a small saucepan and cook until the butter is fully melted, about 2 minutes. Add the jam, cayenne, vinegar and chile powder. Cook 2 minutes longer and sprinkle with salt. Pour half of the glaze into a bowl. Keep the other half of the glaze warming in the small saucepot. For the turkey lollipops: Preheat the oven to 400 degrees F. Whisk together the egg, parsley, salt, sage and cayenne in a small bowl. Add the panko, garlic and onions to the mixture and blend to combine. Mix in the turkey, using your hands, until just combined. Do not over mix; this will result in tough meatballs. Form the turkey mixture into 1-inch balls and arrange on a parchment-lined cooking sheet. Brush the meatballs with half of the spicy raspberry glaze from the bowl. Bake the meatballs until cooked through and slightly firm to touch, about 12 minutes. Halfway through the baking time, brush the meatballs with the warmed glaze. Garnish the meatballs with cocktail skewers for serving.