8 large eggs, hard-boiled and peeled
1 tablespoon mayonnaise
1 teaspoon Dijon mustard
3 tablespoons ranch dressing
3 tablespoons prepared BBQ sauce
2 green onions, finely chopped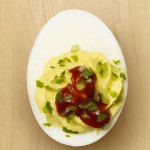 Instructions:
Slice the eggs in half lengthwise, putting the yolks in a medium bowl and the whites on a platter. (Cover the platter with rinsed, uncooked white beans if you want to keep the egg whites from slipping around.) Use a fork to mash the yolks and mix in the mayonnaise, mustard, and ranch dressing. Place the yolk mixture into a sturdy resealable plastic bag, push into one corner, and cut off the tip to make a pastry bag. Pipe the yolk mixture into the whites. Drizzle the BBQ sauce over the eggs using a squeeze bottle (or make another little pastry bag and cut out just a tiny tip for the sauce). Sprinkle with the green onions and serve. Cook's Note: For perfect boiled eggs, place the eggs in a single layer in a large saucepan and cover with cold water. Bring to a boil and boil for 1 minute. Cover, turn off flame, and allow to sit undisturbed for 13 minutes. Rinse in cold water and peel.