1 cup sugar
1 cup water
2 limes, zested and juiced, plus lime wedges for rimming the glasses and garnish
1 (1/2-inch) slice fresh ginger
Kosher salt or sugar, for rimming glasses (optional)
24 ounces sparkling water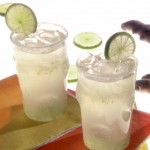 Instructions:
For the simple syrup: Heat the sugar, water, lime zest, and ginger in a medium saucepan over medium-high heat to boiling. Simmer for 3 to 4 minutes, and then remove from the heat. Add the lime juice and let the flavors infuse the syrup for at least 15 minutes while it cools. Strain the syrup, if you wish, and keep in the refrigerator until ready to use. For the drink: Rub a lime wedge around the lip of the glasses to moisten and then dip in salt or sugar to decorate the glasses, if desired. Pour 1 or 2 tablespoons of the lime syrup into each glass and top with sparkling water. Garnish with a wedge of lime. Cook's Note: Sparkling wine can be used instead of water, if desired.