Zucchini Mini Muffins with Orange-Maple Glaze
Muffins:
1 1/2 cups all-purpose flour
1 cup whole wheat flour
1/2 cup wheat germ
1 cup dark brown sugar
1 1/2 teaspoons baking soda
1/2 teaspoon baking powder
1 tablespoon ground cinnamon
Salt
1 cup finely shredded zucchini, patted dry of excess moisture (about 1 medium)
2 eggs, lightly beaten
3/4 cup milk
1/2 cup applesauce
1/4 cup canola oil
1 teaspoon pure vanilla extract

Glaze:
4 ounces cream cheese, at room temperature
Zest and juice of 1 medium orange
2 tablespoons pure maple syrup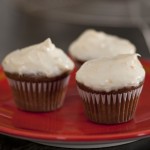 Instructions:
For the muffins:
Preheat the oven to 325 degrees F. Prepare a mini muffin tin with paper liners.
In a large mixing bowl, add the all-purpose flour, whole wheat flour, wheat germ, brown sugar, baking soda, baking powder, cinnamon, and 1/4 teaspoon salt. Whisk well to combine, making sure there are no lumps in the mixture.
In a separate bowl, add the zucchini, eggs, milk, applesauce, canola oil, and vanilla. Whisk well to combine, making sure that the eggs are incorporated properly.
Pour the wet ingredients into the dry ingredients and mix until just combined, taking care not to overmix. Place the batter into the prepared muffin tins, filling them to the brim of the liner, about 1 tablespoon. Place into the oven and bake until a toothpick inserted into the middle of a muffin comes out clean, about 15 minutes.
For the glaze:
Meanwhile, in a small bowl, mix the cream cheese, orange zest, orange juice, and maple syrup.
Remove the muffins from the oven and cool on a wire rack for 15 minutes. When ready to glaze the muffins, dip the tops of them, 1 by 1, into the glaze, turning the muffin in a circle to coat the top evenly. Serve, or store in an airtight container for up to a week. Alternatively, prior to glazing, freeze for up to 1 month.