Roasted Fruit and Homemade Ricotta
FOR THE RICOTTA
2 cups 2% milk
1 cup whole milk
1½ tablespoons white vinegar
½ vanilla bean, split lengthwise, seeds scraped out with the tip of a paring knife (reserve the bean for another use or discard)

FOR THE FRUIT
2 peaches, halved, pitted, and quartered
2 pears, seeded and quartered lengthwise
2 plums, pitted and quartered
1 tablespoon unsalted butter, melted
1 tablespoon lightly packed light brown sugar
¼ teaspoon ground cinnamon
¼ cup hazelnuts
Honey of choice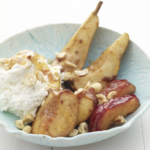 Instructions:
1 To make the ricotta: Set a large fine-mesh sieve over a large bowl. Line the sieve with a dampened piece of cheesecloth. Pour both of the milks into a medium stainless steel or enameled pot and bring to a boil over medium heat, stirring occasionally. Turn off the heat and stir in the vinegar. Let the mixture set for 5 minutes (it will separate into curds and whey).
2 Pour the mixture into the cheesecloth-lined sieve and drain until the ricotta is nice and thick, 20 to 25 minutes. Pour off and discard the water in the bowl occasionally (for thicker ricotta, drain longer).
3 Turn the ricotta out into a bowl and stir in the vanilla seeds. Use immediately or transfer the ricotta to an airtight container and refrigerate for up to 5 days.
4 To roast the fruit: Preheat the oven to 400°F. Add the peaches, pears, and plums to a large bowl and toss with the melted butter, brown sugar, and cinnamon. Place the fruit on a rimmed baking sheet and roast until slightly soft and caramelized, about 10 minutes. Transfer to a bowl and set aside. Roast the hazelnuts on a second rimmed baking sheet until golden, 6 to 8 minutes. Remove from the oven and transfer to a cutting board to cool, then roughly chop.
5 Serve the ricotta alongside the roasted fruit, chopped hazelnuts, and honey for drizzling.
PER SERVING: Calories 191 / Protein 6g / Dietary Fiber 3g / Sugars 20g / Total Fat 9g