2 medium tomatoes, thinly sliced
1 teaspoon kosher salt
1 sheet thawed puff pastry, from
a 17.3-ounce box
1½ teaspoons Dijon mustard
¼ teaspoon dried rosemary
¼ teaspoon dried thyme plus a
squeeze of lemon juice
¼ teaspoon ground black pepper
1 tablespoon olive oil
1½ tablespoons grated Parmesan
cheese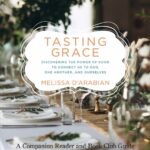 Instructions:
Place the sliced tomatoes in a single layer on a paper
towel-lined baking sheet. Sprinkle with the salt and use a
paper towel to blot the moisture from the top of the tomatoes
every few minutes.
Meanwhile, prepare the tart crust. Adjust an oven rack to
the lowest position and preheat the oven to 450°F. Spray
a 9-inch fluted tart pan (preferably with a removable bottom)
with nonstick pan spray and set aside.
Place the puff pastry on a cutting board and unfold it.
Arrange it on the board so it looks like a diamond rather
than a square. Use a rolling pin to gently roll it from the center
out toward the edges until it is ½ to ⅕ inch thick and slightly
larger than the tart pan. Gently drape the dough over the roll-
ing pin and lay it in the pan, lifting and fitting the dough into
the corners and sides of the pan. Press the dough into the pan
and press off any excess dough from the sides. Use a pastry
brush or your fingers to smear the mustard over the bottom of
the crust. Use a fork to prick the bottom of the crust all over.
Arrange the tomatoes in the crust so they overlap slightly,
saving the 6 smallest slices for the center of the tart.
Sprinkle the rosemary, thyme, and pepper over the tomatoes,
then drizzle with the oil. Sprinkle the Parmesan over the top
and bake the tart until the edges are golden brown and the
tomatoes are tender, about 25 minutes. Remove from the oven
and cool slightly before slicing and serving.