Weeknight Blenditarian Lasagna
Blenditarian meat layer:
1 tablespoon olive oil
½ pound button mushrooms, chopped very finely, or pulsed into fine pieces in food processor
½ pound lean ground beef
¼ cup red wine
salt and pepper

Ricotta layer:
2 cups ricotta
1 egg
1/3 cup grated parmesan cheese
10 ounces frozen chopped spinach, thawed and excess moisture squeezed out (about 1 cup)
1 teaspoon Italian herb seasoning
1 teaspoon granulated garlic
Salt and pepper

Grated cheese layer:
2 cups grated mozzarella
1 cup grated cheddar cheese

Sauce layer:
40-48 ounces store-bought marinara sauce (1-2 jars, depending on size)

9 sheets boil-free lasagna noodles (enough for 9"X13" pan)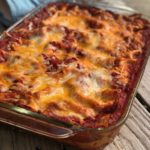 Instructions:
Preheat the oven to 375 degrees.
Make the Blenditarian mixture:
Heat the olive oil in a large saute pan over medium high heat.  Add the finely chopped mushrooms and cook until mushrooms are soft and liquid has mostly evaporated, about 8 minutes.  Add the ground beef and cook until meat has lost its pink color, stirring and breaking up the meat, another 5-8 minutes.  Deglaze the pan with wine and cook until wine has evaporated, stirring occasionally, about 5 more minutes.  Add salt and pepper to taste, slightly under-salting since the lasagna will have cheese. Remove the Blenditarian mixture from the heat and set aside.
Make the ricotta mixture:
In a medium bowl, stir the ricotta, egg, parmesan cheese, spinach, herbs and garlic until well-blended.  Set aside.
Mix the shredded cheeses together in a bowl and set aside.
Assemble lasagna:
Spray a 9X13 pan with vegetable oil spray.  Spread 1 tablespoon of water plus ¾ cup of sauce in bottom of pan.  Lay 3 noodles crossways in pan.  Add the layers in the following order: half the ricotta cheese, one-third of the grated cheese, half the Blenditarian meat mixture, sauce, noodles. Repeat. You should start and end with sauce and noodles, and have about one cup of shredded cheese leftover.
Spray a large piece of foil with vegetable spray and cover lasagna tightly.  Place lasagna pan on top of a large baking sheet (for ease in handling) and bake for 40 minutes.  Remove foil and top with remaining grated cheese and cook an additional 15 minutes, or until lasagna is bubbling.  Allow lasagna to cool 15 minutes before cutting into squares and serving.