1/3 cup raw unsalted cashews
Boiling water
1/4 cup toasted walnuts
1/4 cup nutritional yeast flakes
1/4 teaspoon granulated garlic
1/4 cup lemon juice
2 to 4 cloves garlic, minced
2 teaspoons Dijon mustard
1/4 cup olive oil
2 tablespoons white miso paste
1/4 teaspoon ground black pepper
3 tablespoons cool water
3 hearts romaine lettuce, roughly chopped
2 cups bread cubes, brushed with olive oil and toasted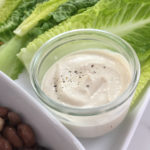 Instructions:
In a small bowl, combine the cashews and enough boiling water to cover them. Let sit for several minutes.
Meanwhile, in a blender, combine the walnuts, nutritional yeast and granulated garlic. Pulse until the mixture has the texture of sand. Pour into a small bowl and set aside.
Drain the cashews and transfer them to the blender. Add the lemon juice, fresh garlic, mustard, olive oil, miso, pepper and cool water. Blend until the mixture is mostly smooth. Taste and adjust seasonings.
In a large bowl, toss the lettuce with the dressing, then top with the bread cubes and the ground walnut mixture.