Tomato-Salad Topped Grilled Pizza
1 tablespoon olive oil, plus extra for rolling dough
1 pound store-bought pizza dough
1 large and very ripe tomato, cored and chopped, or 1 3/4 cups halved cherry tomatoes
1 teaspoon fresh lemon juice
1/4 teaspoon kosher salt
6 fresh basil leaves, roughly torn
4 ounces fresh mozzarella cheese, thinly sliced and quartered
2 cups arugula (or other baby greens or chopped lettuce)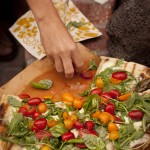 Instructions:
Sometimes changing how you present a dish gives it new life, such as a simple tomato and arugula salad. Instead of serving the salad solo, I use it as an unexpected topping for a quickly grilled pizza, a combo that brings both elements to a new level of sophistication. The bright tomato salad contrasts beautifully with the melted mozzarella and the char of the crust.
Cook's Note: Be sure to have everything for your pizza prepped and at the ready (right at the grill with you!) before you start grilling the pizza dough. You want to make it easy for yourself to work quickly to yield the best results! 
Rub a little olive oil onto a cutting board to lightly grease the surface. Place the pizza dough on the cutting board and turn over so both sides are lightly oiled. Cover with a kitchen towel and set aside for 30 minutes.
Heat one side of a charcoal or gas grill to medium-high heat and the other side to medium-low heat (if using a charcoal grill, bank most of the coals to one side while leaving a few hot coals on the other side).
Place the tomato in a medium bowl. Add the lemon juice, salt, basil, and the remaining 1 tablespoon olive oil. Toss to combine and set aside.
Use a rolling pin to roll the dough into a circle about 1⁄16 inch thick. Carry the cutting board and all of the remaining ingredients plus the tomato salad out to the grill and place the dough on the hot side of the grill. Grill until the underside is browned and has grill marks, 1 to 2 minutes (watch closely—the crust can burn quickly). Use a grilling spatula to turn the dough over onto the cooler side of the grill. Place the mozzarella on top of the pizza, cover the grill (if using a charcoal grill make sure the vent holes in the cover are open), and cook until the mozzarella is melted, 2 to 3 minutes longer.
Transfer the pizza back to the cutting board and slice. Top with the arugula. Use a slotted spoon to transfer the tomato salad to the pizza and serve.