1 pound tomatillos, husked and rinsed
3 cloves garlic, unpeeled
1 Anaheim chile, seeded, deveined
1 white onion, quartered
1/2 jalapeno chile, seeded, deveined
2 tablespoons extra-virgin olive oil
1 1/2 teaspoons salt, plus more for sprinkling
1/4 teaspoon freshly ground black pepper, plus more for sprinkling
Juice from 1/2 lime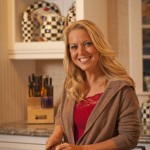 Instructions:
Preheat the oven to 350 degrees F.Place the tomatillos, garlic, Anaheim chile, onions and jalapeno on a baking sheet. Toss the vegetables with the oil, salt and pepper. Roast the vegetables until the tomatillos turn a dark-green color and the onions golden brown, about 30 minutes. Let the vegetables cool slightly. Peel the garlic and transfer all the ingredients to a blender. Blend until smooth, about 1 minute. Add the lime juice and sprinkle with more salt and pepper. The tomatillo sauce can be made 1 day ahead, covered and chilled. Serve with Roasted Chicken.