2 pounds pork shoulder, cut into 6 large chunks
Salt and freshly ground black pepper
2 tablespoons olive oil
1 onion, chopped
2 celery stalks, chopped
1 carrot, chopped
1 clove garlic, roughly chopped
2 tablespoons tomato paste
2 tablespoons all-purpose flour
1 cup red wine
1 1/2 cups beef stock or broth
1 bunch parsley stems, tied with string
2 bay leaves
1 cup water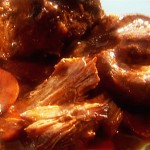 Instructions:
Preheat the oven to 325 degrees F. Pat the pork dry with paper towels and season with salt and pepper. In a large Dutch oven, heat the olive oil over medium-high heat, and working in batches brown the meat on all sides until a golden crust forms. Transfer the pork to a plate. To the pan add the onion, celery, and carrot and sweat until softened, 5 to 7 minutes. Add the garlic and sweat another 2 minutes. Stir in the tomato paste and cook for 3 minutes to cook off the raw flavor and caramelize it. Sprinkle with the flour and cook another 2 minutes to cook off its raw flavor. Whisk in the wine and reduce it by half. Return the pork to the Dutch oven, then stir in the beef stock, parsley stems, and bay leaves. Add the water if liquid does not come up to the top of the pork. Do not cover the pork with liquid. Cover the pan and place it in the oven to braise until the meat is fork tender, about 3 hours. Taste and season with more salt and pepper, if needed. Transfer to a serving platter and serve.