3 tablespoons unsalted butter, room temperature
1/2 teaspoon red pepper flakes
1/2 teaspoon smoked paprika
Kosher salt and freshly ground black pepper
4 ears of corn, shucked (husk and silk removed)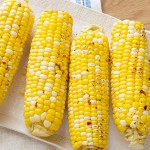 Instructions:
Preheat the grill to medium heat. In a small bowl, mix the butter, red pepper flakes, paprika, and salt, and pepper, to taste. Rub the spiced butter on the corn, coating completely. Wrap each ear of corn in aluminum foil and place on the grill. Cook 20 to 25 minutes, turning several times for even cooking. Carefully remove the foil before serving.