3 boneless, skinless chicken breast halves, nearly thawed
2 tablespoons soy sauce
2 tablespoons orange marmalade
1 tablespoon sweet rice cooking wine (aji mirin), or white wine
1/2 teaspoon crushed red pepper flakes
1/2 cup flour
2 tablespoons sesame seeds
3 tablespoons butter, melted
Rice, for serving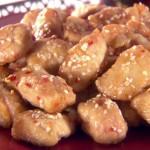 Instructions:
Preheat the oven to 375 degrees F. Line a large baking sheet with parchment paper or foil. Cut the chicken breasts into 1-inch cubes (easiest when not completely thawed). In a medium bowl, mix together the soy sauce, orange marmalade, wine, and crushed red pepper flakes. Toss in the chicken cubes and marinate for at least 10 minutes and up to 8 hours in the refrigerator. In another bowl or plastic bag, mix together the flour and sesame seeds. Drain the chicken cubes and blot any excess liquid, and then toss in the flour to coat lightly. Spread the chicken cubes on the prepared baking sheet and drizzle with the melted butter. Bake until the chicken is crispy but not dry, about 20 minutes, turning the cubes halfway through. Serve with rice.