Roasted Root Vegetable Medley
2 medium beets, peeled, halved and each half quartered into wedges
3 medium carrots, peeled, quartered lengthwise and cut in half or thirds
2 large parsnips, peeled, quartered lengthwise and cut in half or thirds
1 sweet potato, peeled, quartered lengthwise and cut in half or thirds
1 yellow onion, cut into 8 wedges
1/4 cup olive oil
Salt and freshly ground black pepper
Juice and zest of 1 orange
1 tablespoon chopped fresh fall herbs, such as rosemary, sage and/or thyme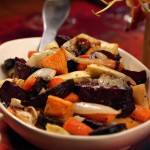 Instructions:
Preheat the oven to 400 degrees F. Line a rimmed baking sheet with aluminum foil.
Place the beets on a quarter of the baking sheet. Place the carrots, parsnips, sweet potatoes and onions on the other side of the beets (to keep the beets from staining the other vegetables). Drizzle the vegetables with 1 tablespoon oil and sprinkle with salt and pepper. Gently toss the vegetables to coat and roast until tender, about 35 minutes, turning midway through roasting. Remove from the oven and set aside to cool for 5 minutes.
Meanwhile make a quick vinaigrette in a small bowl by whisking the remaining olive oil into the orange juice and zest. Add the herbs and season.
Place the vegetables in serving dish, drizzle with the vinaigrette and gently stir to coat.