3 large white onions, peeled and quartered
3 tablespoons olive oil
Kosher salt and freshly ground black pepper
1/4 cup balsamic vinegar
1/2 teaspoon sugar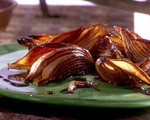 Instructions:
Preheat the oven to 350 degrees F. In a large bowl, toss the onion quarters with the olive oil, balsamic vinegar, sugar, and season with salt and pepper. Place in an ovenproof, large, nonstick skillet, spreading them out in an even layer. Cover the skillet with aluminum foil. Roast for 20 to 25 minutes, and then remove the foil. Toss the onions well to coat with the reduced balsamic glaze and put back in the oven to roast another 20 to 25 minutes. Serve warm.