1/4 cup olive oil, plus more as needed
Kosher salt and freshly ground black pepper
1 small eggplant, chopped
1 zucchini, chopped
1 pepper (red, green, or yellow), chopped
1 onion, chopped
3 small tomatoes, chopped
3 cloves garlic, pressed
2 teaspoons chopped fresh thyme
3 or 4 leaves fresh basil, chopped
Splash red wine vinegar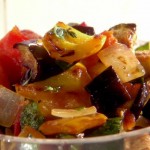 Instructions:
Heat 2 tablespoons of oil in a large pan or Dutch oven. Cook the vegetables one at a time (separately) for 5 to 7 minutes, adding a little more oil as needed and seasoning with salt, in the following order: eggplant, zucchini, pepper, onion, and tomatoes. Combine all of the cooked vegetables together in the pan, add the garlic, thyme, and basil and let simmer gently for 20 minutes. Add a splash of red wine vinegar, season with salt and pepper, and then turn off the heat. Serve hot, warm, or cold.