1 tablespoon olive oil
1 yellow onion, chopped
1 red bell pepper, chopped
3 garlic cloves, minced
2 tablespoons chili powder
1 teaspoon cumin
dash cayenne, if desired
1 28-ounce can crushed tomatoes
1 15-ounce can tomato sauce
½ cup vegetable or chicken broth
2 cups cooked black beans
salt and pepper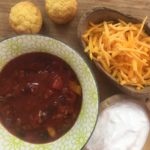 Instructions:
In a large pot over medium heat, cook the onion and pepper in the olive oil until it begins to soften, about 5 minutes.  Add the garlic, chili powder, cumin and cayenne (if using) and cook another minute, stirring.  Add the tomatoes, tomato sauce, broth and beans.  Simmer for ten minutes, or up to two hours, before serving with shredded cheese, green onion and sour cream, if desired.