Eight 1/2-inch-thick slices of prepared polenta (sold in tubes)
1 teaspoon olive oil
1/2 cup low-fat jarred marinara sauce
1/2 cup shredded mozzarella cheese
Other toppings if desired (chopped veggies, chicken sausage, ham cubes)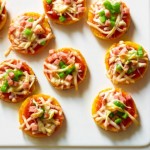 Instructions:
Preheat the broiler to high. Brush the polenta with the olive oil on both sides and place the disks on a broiler pan covered with foil. Broil until the tops begin to turn golden, about 1 minute (watch closely as broiler heat varies). Flip the polenta disks over and spread about 1 tablespoon of the marinara sauce on each one, then top with cheese and other toppings (if using). Broil until the cheese is golden and bubbly, about 1 more minute. Let cool a few minutes and serve.