Olive oil cooking spray, in a spritzing bottle
3 whole wheat pitas, each cut into 12 wedges
1 tablespoon sesame seeds
1/2 teaspoon dried oregano
Salt
1/4 teaspoon freshly ground black pepper
Special Equipment: Olive oil spritzing bottle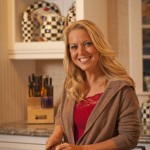 Instructions:
Preheat the oven to 350 degrees F. Line a baking sheet with aluminum foil. Lightly spray the foil with oil. Place the pitas on the foil. Spray each pita with oil. Sprinkle each sprayed side with the sesame seeds and oregano and sprinkle with salt and pepper. Bake the pitas until crisp, about 10 minutes.