3 large baking potatoes, peeled
2 tablespoons vegetable oil
1 teaspoon white sugar
1/2 teaspoon paprika
Kosher salt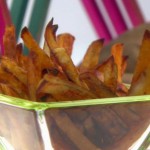 Instructions:
Preheat the oven to 400 degrees F. Cut the potatoes into "fries" by slicing them lengthwise 4 times, and then slicing each slice another 4 or 5 times. Mix the oil, sugar and paprika in a bowl or large freezer bag. Toss the potatoes in the oil and sugar mixture and transfer to a baking sheet in 1 layer. Sprinkle with salt on both sides. Bake 30 to 40 minutes, turning the fries over with tongs about halfway through.