Orange Chocolate Lava Cakes
Nonstick cooking spray
3/4 cup bittersweet chocolate chips
4 tablespoons unsalted butter
1 tablespoon extra-virgin olive oil, plus more for drizzling
Zest of 1 orange
1/4 cup sugar
1 whole egg, plus 1 egg yolk
1 tablespoon all-purpose flour
1 teaspoon vanilla extract
Sea salt, for sprinkling
1 orange, segments cut into supremes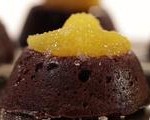 Instructions:
Preheat the oven to 375 degrees F. Spray a muffin tin with nonstick cooking spray.
Melt the chocolate, butter and oil in a medium bowl in the microwave until completely melted, about 1 minute. Whisk the mixture until smooth. Stir in the orange zest and cool slightly.
Whisk the sugar, egg and yolk until pale in a medium bowl. Whisk in the melted chocolate mixture. Stir in the flour and vanilla until smooth. Divide the batter among four prepared muffin tins. Bake the cakes until just barely dry on top (they will be soft in the middle), about 12 minutes. Remove the cakes from the oven and cool, about 5 minutes.
Gently flip the cakes onto a plate. Sprinkle the cakes with sea salt and top with the orange supremes. Drizzle with a bit of oil.