For the North African Sauce:
2 tablespoons olive oil
1/2 small onion, diced
2 cloves garlic, chopped
1 lemon, zested
1/2 cup pitted and chopped briny olives
1/2 cup white wine
1/4 cup chicken stock or broth
1 (14-ounce) can crushed or diced tomatoes
1 teaspoon light brown sugar
1/2 teaspoon dried red pepper flakes
Pinch ground cinnamon
Salt and freshly ground black pepper
For the Meatballs:
1 egg
2 tablespoons tomato paste
3 tablespoons finely chopped fresh cilantro leaves
1 tablespoon minced fresh ginger
1 teaspoon ground cumin
Pinch ground cinnamon
3/4 pound ground beef
1/3 cup finely ground rolled oats or fine bread crumbs
Salt and freshly ground black pepper
3 to 4 tablespoons vegetable oil, for cooking
4 tablespoons chopped fresh parsley leaves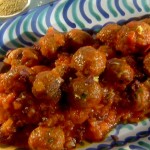 Instructions:
In a large saucepan heat the olive oil over medium heat and saute the onion and garlic until soft but not brown, about 3 minutes. Add the lemon zest and olives and cook for 1 more minute. Add the white wine, deglaze the pan, and let it reduce for a 1 to 2 minutes. Stir in the stock, canned tomatoes, sugar, red pepper flakes, and cinnamon, and simmer to blend flavors, about 7 minutes. Season with salt and pepper, to taste. To make the Meatballs: In a medium bowl, add the egg and tomato paste and stir until smooth. Add the cilantro, ginger, cumin, and cinnamon and mix until well blended. Stir in the ground beef and oats, season with salt and pepper, to taste, and combine gently after each addition. Do not overmix. Rolling with your hands, make about 32 meatballs, about 1-inch in diameter. In a large saute pan, heat 3 tablespoons vegetable oil over medium heat, and brown the meatballs in batches until golden on all sides. Add more oil, as needed. Transfer the meatballs to the pan with the sauce and let simmer for 20 minutes. Sprinkle with fresh parsley and serve; recommended to serve over my Couscous with Dried Dates.