2 large fillets of salmon, about 8-9 ounces each
½ medium yellow onion, roughly chopped
1 medium clove of garlic
1/2 cup chopped parsley
1/2 cup chopped cilantro
1 teaspoon ground cumin
¼ teaspoon ground dried chili pepper or red pepper flakes (optional)
1 tablespoon olive oil, plus enough to coat the fish
1/3 cup chopped lemon confit (or "preserved lemon"), peel included (see recipe on my website)
kosher salt
Freshly ground black pepper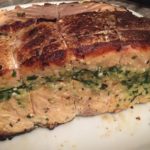 Instructions:
Remove the bones from the salmon fillets and place on a non-porous cutting board, skin down. Place the onion, garlic, parsley, cilantro, cumin, chili pepper, and olive oil in a food processor and pulse until still a little chunky but well-blended.   Add salt and pepper. Spread on one of the salmon fillets.  (Do not overfill, or herbs will burn.) Top with the remaining salmon fillet – like a sandwich, skin side-out.  Tie together (width-wise) with kitchen string or twine, five or six times, so that the herb mixture stays in place while cooking.  Cook on a medium hot grill until cooked through, about 6-7 minutes per side.  Or, cook in a 400-degree oven about 18 minutes, or until cooked through.  Serve warm or cold.