1 sheet thawed puff pastry
2 tablespoons unsalted butter
¾ pound fresh mushrooms, sliced (about 3 cups)
3 cloves garlic, minced
1 teaspoon fresh thyme leaves, chopped
½ cup chopped chard (or other leafy green)
salt and pepper

5 eggs
¾ cup cream or whole milk
¾ cup shredded mozzarella cheese
¼ cup shredded parmesan cheese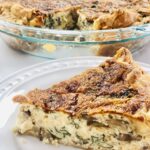 Instructions:
Preheat the oven to 325°F. Place a 9-inch deep-dish pie plate on your work surface. Unfold the sheet of puff pastry and place it on a cutting board or piece of parchment paper. Use a rolling pin to lightly roll it until it is big enough to fit into the pie plate. Fit the pastry into the pie dish, trimming any edges that hang over the sides of the plate. Crimp the edges, poke a few holes in the bottom using a fork, and set aside.
Melt 2 tablespoons of the butter in a large skillet over medium-high heat. Add the mushrooms, salt, and pepper and cook, stirring occasionally, until they are tender, about 7 minutes. Stir in the garlic thyme and chard, and cook until fragrant, about 1 minute. Turn off the heat and set aside. There should be no excess liquid, but if there is, blot it with a paper towel.
Whisk the eggs and cream together in a large bowl. Scrape the mushroom mixture into the eggs, add the cheese, and whisk to combine. Pour the egg mixture into the prepared pie plate and arrange the filling so the filling is evenly dispersed.
Set the pie plate on a rimmed sheet pan and bake the quiche until the edges of the quiche are firm, the center is set, and the crust is golden brown, about 50 minutes. Cool for 15 minutes before slicing and serving. The quiche is great warm or at room temperature.