Fruit-and-Veggie Mini Muffins
Cooking spray (optional)
1/2 cup all-purpose flour
1/2 cup whole-wheat flour
1 tablespoon soy flour
2 tablespoons wheat germ
1/2 cup bran flakes cereal or old-fashioned oats (or a combination)
1/4 cup ground flax seeds
1 teaspoon baking soda
1 teaspoon baking powder
1 teaspoon ground cinnamon
Pinch of salt
1 large egg
1/4 cup packed light brown sugar, plus more for topping (optional)
2 tablespoons extra-virgin olive oil
1 teaspoon vanilla extract
2/3 cup plus 1 tablespoon whole milk
3/4 cup grated or finely chopped vegetables (carrots, zucchini and/or spinach)
3/4 cup grated or finely chopped fresh or dried fruit (apples, pears, pineapple and/or raisins)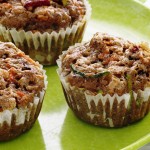 Instructions:
Preheat the oven to 350 degrees. Line a 24-cup mini muffin pan with paper liners or mist with cooking spray.
Whisk the flours, wheat germ, bran flakes, flax seeds, baking soda, baking powder, cinnamon and salt in a large bowl; set aside. Beat the egg and brown sugar in a medium bowl with a wooden spoon until smooth. Add the olive oil, vanilla, milk, vegetables and fruit and mix well. Pour the wet ingredients into the dry mixture and stir just until blended
Spoon the batter into the prepared pan, filling each cup about three-quarters of the way. Sprinkle the tops with brown sugar, if desired. Bake for 20 to 24 minutes. Remove from the pan and cool on a rack.