1 large egg
1 scallions (green parts only), finely chopped
2 garlic cloves, finely minced or pressed through a garlic press
Zest and juice of 1/2 lemon
1/4 cup soy sauce
2 teaspoons dried thyme
1/2 teaspoon ground black pepper
2/3 cup bread crumbs
1 pound 80% lean ground beef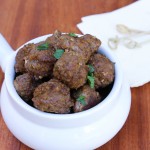 Instructions:
Preheat the oven 375°F. Lightly coat a rimmed baking sheet with nonstick pan spray and set aside.
In a large bowl, whisk together the egg, scallions, garlic, lemon zest and juice, soy sauce, thyme, and pepper. Stir in the breadcrumbs, then add the ground beef, breaking it up into small knobs as you add it to the bowl.
Use a spoon or your hands to gently mix together and then form the mixture into twenty-four 1-inch balls. Place the balls on the prepared baking sheet and bake until they are browned and slightly resistant to pressure when pressed, about 20 minutes. Serve hot.