1 10-ounce fillet of cod, or other mild white fish
5 green onions, white part removed, trimmed to similar length as the fish
2 tablespoons soy sauce
½ teaspoon minced fresh ginger
1 clove garlic, minced
1 tablespoon lime juice (or lemon juice)
1 teaspoon olive oil
4 very thin pats of butter
cilantro and lime wedges for garnish
salt and pepper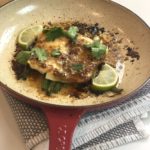 Instructions:
Preheat the oven to 400 degrees.  Line a baking tray with parchment and place the onions on the parchment, lined up in a rectangle about the size of the fish. Season with a little salt and pepper. Pat the fish dry and lay it on top of the onions. In a small bowl, whisk together the soy sauce, ginger, garlic, lime juice and olive oil, and then pour over top of fish, coating it evenly.  Top the fish with the pats of butter.  Bake until fish is no longer translucent, about 10 minutes per inch of fish thickness.  Remove the fish from the oven and top with cilantro and a squeeze of lime and serve.