Island Kale Salad with Almonds and Passion Fruit Vinaigrette
Salad
4 cups chopped kale
1 avocado, cubed
2 tablespoons sliced or chopped almonds
2 radishes, halved then thinly sliced

Passion Fruit Island vinaigrette
1/3 cup passion fruit juice (or substitute pineapple or fresh orange juice)
1 tablespoon honey
2 tablespoons lime juice
¼ cup olive oil
salt and pepper to taste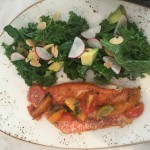 Instructions:
Kale Salad with Almonds
Place the kale, avocado and almonds in a large bowl.  Make the dressing (recipe follows), and toss the salad with the dressing.  Top with sliced radishes.
(Recipe adapted from Frank Castleton's version served at Grace Bay Club in Turks and Caicos.)
Passion Fruit Vinaigrette
Whisk together everything except the olive oil.  Drizzle the oil in slowly while whisking to create an emulsion.  Taste and adjust seasoning.
(Recipe adapted from Frank Castleton's version served at Grace Bay Club in Turks and Caicos.)