8 ounces thinly sliced fresh conch or white fish
½ cup mix of lemon, lime, orange and grapefruit juice
½ teaspoon salt
½ English cucumber, cut into small dice
¼ mango, cut into small dice
¼ red onion, sliced thinly, shocked quickly in ice water
4 or 5 small cherry tomatoes, quartered
cilantro leaves, for garnish
Citrus Vinaigrette:
¼ cup mix of lemon, lime, and orange juice
1-2 teaspoons palm sugar
1-2 teaspoons spicy chili sauce
¼ cup olive oil
salt and pepper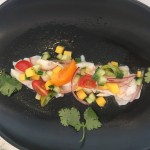 Instructions:
In a shallow bowl or dish, place the fish, the ½ cup of citrus juice and salt and let marinate in the refrigerator for 15-20 minutes.  Meanwhile make the vinaigrette:  whisk together the ¼ cup of citrus juices with the sugar and chili sauce.  Drizzle in the olive oil and whisk into an emulsion.  Toss the cucumber, mango, onion and tomatoes in the dressing. Once the fish or conch is done marinating, discard the marinade and place on a chilled plate.  Spoon the veggie mixture over the fish, top with cilantro leaves and serve.
(Recipe adapted from Frank Castleton's version served at Grace Bay Club in Turks and Caicos.)