1 slice bacon, thinly sliced
2 tablespoons vegetable oil
1/2 small onion, finely chopped
3 cloves garlic, minced
2 tablespoons plain dried bread crumbs
2 teaspoons brown sugar
3/4 teaspoon dried thyme
1/4 teaspoon cayenne pepper
Kosher salt and freshly ground black pepper
8 ounces 72% lean ground pork
1 egg yolk
1 tablespoon water
Cook's Note: It is easiest to cut the bacon when frozen.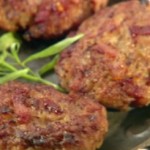 Instructions:
In a small saute pan, cook the bacon over medium heat until rendered but not crispy, about 3 minutes. Add 1 tablespoon vegetable oil and onions, and cook until the onions are soft and begin to turn golden in color, about 3 more minutes. Add the minced garlic and cook an additional 1 minute, or until fragrant. Remove the pan from the heat, and set aside. In a medium bowl, use a fork to mix together the bread crumbs, brown sugar, thyme, cayenne pepper, and salt, and pepper. Add the ground pork, egg yolk, and bacon and onion mixture to the bread crumbs, and gently mix with your hands until just combined. Do not over mix. Divide the mixture into 8 even portions and form into patties, pressing a small thumb indentation in the middle of each so they stay flat when they cook. In a large saute pan, heat 1 tablespoon vegetable oil over medium-high heat. Add the sausage patties and brown on both sides, about 2 minutes per side. Add a tablespoon of water and cover the pan for 3 minutes, or until the sausage is fully cooked. Serve hot.