1/2 head red cabbage, cut into 4 wedges, leaving core intact so wedges hold together
2 tablespoons canola or vegetable oil
1 tablespoon sugar
Kosher salt and freshly ground black pepper
1 teaspoon finely grated orange zest
1 teaspoon Dijon mustard
1 tablespoon fresh orange juice
1/4 cup olive oil
1/4 cup chopped fresh parsley
1 green onion, chopped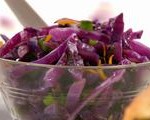 Instructions:
Preheat a grill. Place the cabbage wedges on a baking sheet, and drizzle with the vegetable oil on both sides. Sprinkle with sugar, salt, and pepper, and then toss to coat. Grill the cabbage for 4 minutes each side, or 8 minutes total, turning once or until the edges begin to wilt, but the bulk of the cabbage remains crunchy. Remove the cabbage from the grill and allow to cool a few minutes. Meanwhile, make the vinaigrette in a medium bowl by whisking the orange zest, Dijon mustard, and orange juice with the olive oil until it emulsifies. Add salt, and pepper, to taste. Chop the grilled cabbage, removing the core, and place in the bowl with the dressing. Add the parsley and green onion and toss to coat. Can be used in my Beef and Black Bean Sliders.