2 cups vanilla almond, coconut or soy milk
1/2 cup whole oats
1 1/4 cups fresh, frozen or canned peaches, or mango cubes
1 cup ice cubes
1 cup baby spinach, loosely packed
1 tablespoon honey
1 teaspoon vanilla extract
2 bananas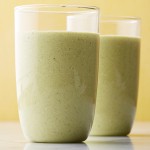 Instructions:
Place the milk and oats in a blender and blend for 15 seconds on high. Add the peaches, ice, spinach, honey, vanilla and bananas and blend until very smooth, 45 seconds. Serve in glasses.