2 large eggs
3/4 cup milk (not skim)
3/4 cup water
1 tablespoon melted butter or melted coconut oil
3/4 cup protein-based gluten-free flour mix
(such as Bob's Red Mill GF All-Purpose or Buckwheat for a Brittany-inspired crepe)
1/2 cup starch gluten-free flour mix
(such as Pamela's or a mix of rice flour, potato starch and tapioca starch)
1/4 teaspoon xanthan gum (omit if your flour mix already contains)
Pinch salt

Optional extras:
If making savory crepes only, add chopped herbs.
If making dessert crepes only, add 1 tablespoon sugar, orange zest or cocoa powder.
We use same batter for both savory and sweet, so we leave out the extras.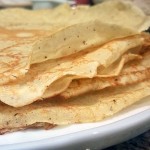 Instructions:
In a small bowl, whisk together the wet ingredients. In a clean, large bowl, whisk together the dry ingredients. Pour the wet ingredients into the dry ingredients and whisk until smooth. (The batter will be thin.) Place bowl in the refrigerator and let rest for 30 minutes. Once rested, the batter should be just slightly thicker than heavy cream (which means it will be slightly thicker than regular crepe batter). Add a tablespoon or two of water if needed. Heat a nonstick skillet or crepe pan on medium heat. Spray with nonstick spray just before pouring in the batter each time. Pour in just under 1/4 cup of batter into the hot, greased pan, and swirl the pan around to coat the entire bottom of the pan with the batter, using the back of spoon if needed to help it spread quickly. After the swirling, place the pan back on the burner and let it cook for about 30-60 seconds, or until the top of the crepe looks partially dry. Then pull the crepe off the burner for another 30-60 seconds (I cook on the back burner and pull to the front burner.). This off-burner cooking trick is what makes my GF crepes perfect — totally worth the extra seconds of cook time. The extra (low-heat) time let the crepes settle into shape, so they flipped easily without falling apart, while not over-browning them. As the crepes cook, stack them on a large plate. Then fill with anything you want, from ham and cheese to chocolate-hazelnut spread. Fold and enjoy.