Fruit and Nut Holiday Shortbread
1/2 cup unsalted butter (1 stick), softened to room temperature
1/3 cup sugar
1 cup flour
1/2 teaspoon salt
1/4 cup chopped pecans
1/4 cup dried cranberries
2 tablespoons mini chocolate chips
2 tablespoons orange marmalade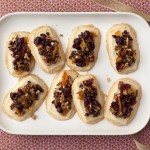 Instructions:
Make the shortbread cookies: Preheat the oven to 300 degrees F. Cream the butter with the sugar in a medium bowl using a handheld mixer. In a small bowl, mix the salt and flour, and then mix into the butter, 1/4 cup at a time, just until uniform. Do not overmix. Gather the dough into a ball; chill for 15 minutes if the dough is beginning to soften or feel greasy. Roll the dough out to 1/2-inch and cut into rectangles about 1/2-inch by 2 inches. Place on a cold, ungreased baking sheet. Bake until the edges are just beginning to turn golden, 20 minutes.
Meanwhile, make the fruit and nut topping: In a small bowl, mix the pecans, cranberries, and chocolate chips with the orange marmalade.
After 20 minutes, remove the cookies from the oven and spread the fruit and nut topping on the tops of the shortbread. Return to bake for 7 to 8 more minutes. Allow to cool before serving. Best eaten within a day or two of making.