Fish:
4 fillets of halibut or other firm fish, about 3-4 ounces each
2 teaspoons Worcestershire sauce
2 tablespoons fresh lemon juice
2 tablespoons olive oil
salt and pepper

Mango Pico de Gallo:
½ mango, diced small
½ cup diced sweet pepper (red, yellow, orange, green, or mixed)
1 minced jalapeno, optional
¼ cup diced red onion
2 tablespoons chopped cilantro
1 tablespoon lemon juice
drizzle olive oil
salt and pepper

Seafood salad:
1 teaspoon Dijon mustard
2 tablespoons red wine vinegar
1 tablespoon lemon juice
¼ cup olive oil
½ pound mixed steamed seafood: shrimp, scallops, calamari
salt and pepper
4 cups chopped romaine lettuce
chives, for garnish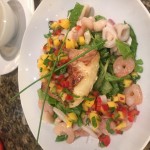 Instructions:
Marinate the fish with Worcestershire sauce, lemon juice and olive oil for 5-30 minutes.  Cook over medium heat on grill or in sauté pan until cooked through, about 10 minutes, turning to sear all sides.  Meanwhile, mix all the ingredients for the mango pico de gallo in a bowl and set aside.  Make the Dijon vinaigrette by whisking the mustard, vinegar and lemon juice in a bowl, and then drizzle in olive oil, while whisking, until a creamy emulsion results.  Pour the dressing over the mixed steamed seafood and set aside.
To plate:
Place 1 cup of lettuce on a plate.  Spoon the seafood around the lettuce, drizzling some of the dressing on the lettuce.  Top with the cooked fish, and then the mango salsa on top.  Garnish with fresh chive, chopped or left long.
(Recipe adapted from Holland America's version served on the Veendam New England Cruise)