1 fennel bulb, core removed, cut into quarters, and sliced very thinly, fronds reserved
1 cup thinly sliced purple cabbage
2 scallions, chopped
2 strips bacon, cooked crisp and chopped
1/4 cup mayonnaise
3 tablespoons red wine vinegar
3 tablespoons chopped fennel fronds
1 teaspoon sugar
Salt and freshly ground black pepper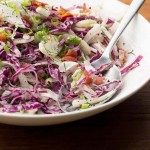 Instructions:
Toss the fennel, cabbage, scallions, and bacon together in a medium bowl. Whisk the mayonnaise, vinegar, fennel fronds, sugar, and salt and pepper, to taste, in a small bowl. Add the dressing to the slaw and toss to coat.