Salt
Pinch of sugar
2 medium tomatoes, seeded and chopped
1/2 medium sweet onion, finely chopped
1 jalapeno, seeded, ribs removed and finely chopped
1 avocado, halved, pitted, peeled and cut into small cubes
1 lime, juiced
3 tablespoons chopped fresh cilantro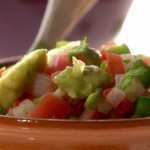 Instructions:
In a small bowl, mix 1 teaspoon salt with the pinch of sugar. In a medium bowl, toss the tomatoes gently with the salt mixture. Add onion and jalapeno and combine. Place the avocado on top of the tomato mixture and squeeze with lime juice to coat the avocado. Sprinkle on the cilantro, and stir to combine. Serve, or can be used in my Burrito Bowl.