d'Arabian Family Protein Bars
Olive oil mister or nonstick pan spray
1½ cups old-fashioned rolled oats
2 tablespoons sunflower seeds
3 tablespoons unsweetened shredded coconut
2 tablespoons lightly packed light brown sugar
½ teaspoon ground cinnamon
½ teaspoon kosher salt
3 tablespoons coconut oil (if solid, microwaved until melted)
²⁄³ cup plain reduced-fat Greek yogurt
¹⁄³ cup almond butter
2 tablespoons honey
½ cup vanilla- or chocolate-flavored whey protein powder
3 tablespoons roasted almonds, roughly chopped
¼ cup dried cranberries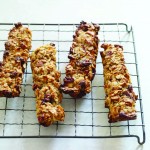 Instructions:
Try this recipe from the Snacks chapter of Melissa's "Supermarket Healthy" cookbook. To learn more about the cookbook, get a sneak peek and order, click here.
Preheat the oven to 350°F. Grease a 9 by 13-inch baking dish with olive oil or nonstick pan spray. Mix the oats, sunflower seeds, coconut, brown sugar, cinnamon, and salt in a large bowl.
In another medium bowl, stir together the coconut oil, yogurt, almond butter, and honey. Add the yogurt mixture to the oat mixture and mix until the two are thoroughly combined. Stir in the protein powder, almonds, and cranberries. The mixture will be sticky.
Spread the mixture into the prepared dish and bake for 15 minutes. Take the pan out of the oven and let the mixture cool slightly, then slice it crosswise into 10 bars. Carefully remove the bars from the baking dish and use a spatula to transfer them to a parchment paper–lined rimmed baking sheet.
Bake until the bars start to turn golden, about 15 minutes longer. Remove the baking sheet from the oven, transfer the bars to a wire rack, and cool completely. (Wrap in aluminum foil or plastic wrap and refrigerate for up to 1 week.)
PER SERVING (1 bar): Calories 226 / Protein 9g / Dietary Fiber 2g / Sugars 9g / Total Fat 14g
Reprinted from Supermarket Healthy: Recipes and Know-How for Eating Well Without Spending a Lot. Copyright © 2014 by Melissa d'Arabian. Photographs © 2014 by Tina Rupp. Published by Clarkson Potter, an imprint of Random House LLC.