Curried Egg Salad on Whole Wheat Bread
1/2 cup reduced-fat Greek yogurt
1 tablespoon prepared mayonnaise
1/4 teaspoon curry powder, or as needed
4 hard-boiled eggs, peeled, halved, and finely chopped
1 large green onion, finely chopped
Kosher salt and freshly ground black pepper
6 slices good-quality whole wheat bread*
3 pieces red leaf lettuce
*Cook's Note: Can cut off the bread crusts, if desired.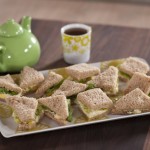 Instructions:
In a medium bowl, combine the Greek yogurt, mayonnaise, curry powder, to taste, and stir well to combine. Add the eggs and green onions and season with salt and pepper. Gently fold the eggs into the yogurt mixture and taste for seasoning.
Lay 3 slices of bread on the work service. Divide the curried egg salad evenly among the bread slices, and top each slice with 1 piece red leaf lettuce. Top with the remaining slices of bread. Cut the sandwiches into quarters and serve immediately.