2 to 3 cups vegetable oil
1/2 cup all-purpose flour
1/2 teaspoon salt, plus extra for sprinkling
1/2 teaspoon black pepper
2 eggs, lightly beaten
1 1/4 cups panko breadcrumbs
4 celery stalks, cut into 3-inch sticks, 24 sticks in total
Special equipment: deep-fat thermometer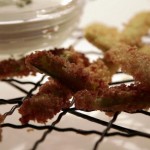 Instructions:
Heat about 1 1/2 inches vegetable oil in a medium heavy pot over medium heat to 360 degrees F. Whisk the flour, 1/4 teaspoon salt and 1/4 teaspoon pepper in a shallow bowl. Whisk 1 tablespoon water and the eggs in a separate shallow bowl. Place the breadcrumbs and remaining 1/4 teaspoon salt and pepper in a separate shallow bowl. Toss one-third of the celery in the flour mixture, shaking off excess. Transfer the celery to the egg mixture and turn with a fork to coat. Lift out the coated celeries 2 at a time, letting the excess egg drip off. Place the celery in the breadcrumbs, slightly pressing the celery into the breadcrumbs to make sure they're well coated. Carefully drop the celery into the pot and fry in batches of 3, turning occasionally, until golden, 2 to 3 minutes. Transfer the celery to a wire rack or fresh paper towels, to drain, using a slotted spoon. Repeat the coating and frying process with the remaining celery sticks. Keep the oil to 360 degrees F between batches. Sprinkle the celery with salt and serve immediately.