Creamy Cauliflower "Baked Potato" Soup
2 slices bacon, finely chopped
1 sweet onion (Maui or Vidalia), finely chopped
1 small head of cauliflower (about 1¼ pounds), cored, trimmed, and divided into small florets
1 medium russet potato, peeled and cut into 1-inch pieces
1 small carrot, finely chopped
2 garlic cloves, very finely chopped or pressed through a garlic press
½ teaspoon kosher salt
¼ teaspoon ground black pepper
2 cups low-sodium chicken broth
¼ cup reduced-fat cream cheese (Neufchâtel)
½ cup plain reduced-fat
Greek yogurt
½ cup grated Cheddar cheese
2 scallions (white and light green parts only), finely chopped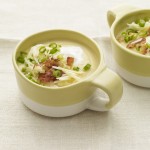 Instructions:
Try this recipe from the Soups & Stews chapter of Melissa's "Supermarket Healthy" cookbook. To learn more about the cookbook, get a sneak peek and order, click here.
Add the bacon to a large soup pot set over medium heat and cook until the bacon is crisp, about 7 minutes. Use a slotted spoon to transfer the bacon to a paper towel–lined plate and set aside.
Stir the onion into the bacon fat and cook, stirring often, until it is translucent, about 3 minutes. Add the cauliflower, potato, carrot, garlic, salt, and pepper and cook, stirring occasionally, until the vegetables begin to soften, about 5 minutes.
Raise the heat to medium-high, add the broth and 1 cup water, and bring the liquid to a boil. Simmer the mixture until the vegetables are very soft, about 13 minutes. Turn off the heat and use a ladle to transfer half the vegetables and liquid to a blender. Add the cream cheese and blend until smooth.
Pour the puréed soup into a large bowl or clean saucepan. Blend the second half of the soup until it is smooth and add it to the first batch. Heat the soup over medium heat until it is warmed through. Divide among soup bowls and serve topped with a dollop of yogurt and some of the grated cheese, bacon, and scallion.
PER SERVING: Calories 187 / Protein 10g / Dietary Fiber 3g / Sugars 6g / Total Fat 10g
Reprinted from Supermarket Healthy: Recipes and Know-How for Eating Well Without Spending a Lot. Copyright © 2014 by Melissa d'Arabian. Photographs © 2014 by Tina Rupp. Published by Clarkson Potter, an imprint of Random House LLC.