2 cups plain yogurt
3 tablespoons orange marmalade
3/4 cup heavy cream
1 teaspoon vanilla extract
1 tablespoon sugar
1 (10-ounce) can whole cranberry sauce
2 tablespoons fresh orange juice
2 teaspoons orange zest
2 tablespoons chopped pecans, toasted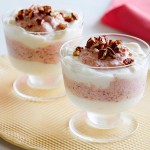 Instructions:
Add the yogurt to a coffee filter or doubled paper towels lined in a fine sieve. Let drain over a bowl for at least 1 hour or up to overnight in the refrigerator. Discard the accumulated liquid on the bottom of the bowl. Add the drained yogurt to the bowl and stir in the marmalade. In a separate bowl, whip the cream with a beater until it begins to thicken. Add the vanilla and sugar and continue to whip until soft peaks just begin to form. Add the cranberry sauce to a medium bowl. Stir half of the cream into the cranberry sauce along with the orange juice and orange zest and mix gently. Add the other half of the cream to the bowl with the yogurt mixture. Layer the yogurt and the cranberry mixtures in 4 parfait glasses or wine glasses, and top with a sprinkle of chopped pecans. Chill before serving.